Expert Technical Assistance, When You Need It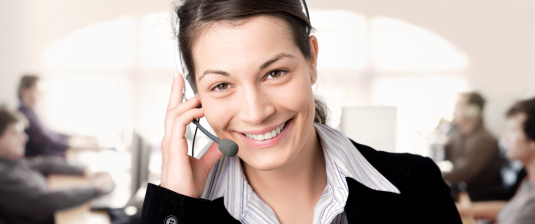 Support Services
At QSI, we recognize that operations never stop for many of the customers using our products. That's why we're committed to delivering complete customer satisfaction and, as a company, we stand behind every  product we sell. Whether our customers are using TEAMS to ensure that the next space launch goes smoothly or to get their MRI machine up and running, we're here to deliver timely professional support and expert assistance. Our support group is staffed with highly trained engineers with strong software, database, and operating system skills and years of  experience working with TEAMS customers. We're able to resolve most issues quickly and accurately. If needed, our Support organization can escalate open issues to software engineering for rapid problem resolution.
Many of QSI's products are designed from their inception with remote maintenance in mind, so troubleshooting configuration or site specific issues in the field is a snap. During remote customer support sessions, customer security is maintained through the use of strong network encryption protocols and industry-standard security practices.
To reach QSI Support:
Email: support@teamqsi.com
Phone: (860) 257-8014 Ext. 3
To request a new feature or to report software bugs:
Email: support@teamqsi.com
Please send us as much information as possible, including screenshots and models (if applicable), so that we can reproduce the issue.
For software license renewals:
Email: license@teamqsi.com
Professional Services
QSI maintains a Professional Services organization that works directly with customers on implementation or adaptation of the QSI software to meet specific needs. This group includes project management, architects, software development, and testing resources. This group is based out in our Rocky Hill, CT. headquarters but works onsite at customer locations worldwide.
Modeling Assistance – We provide training and modeling consultancy for users to get acquainted with usage of our products and learn about the best modeling practices. Please contact support@teamqsi.com.
A typical customer implementation of TEAMS includes the following QSI Professional Services:
Project discovery workshop
TEAMS configuration
Platform configuration & Integration
Best Business Strategies and Practices
Design for Service Best Practices
Additionally QSI Innovation Workshops enable you to leverage your TEAMS PRODUCTS to create opportunities, services, and relationships that drive new revenue sources, lower costs and improve customer satisfaction.
Educational Services
QSI Educational Services offers a range of training classes to suit the needs of different constituencies ranging from system users to business managers to IT administrators to developers. Training is typically delivered onsite at the customer location. See the link below for more information on the various training classes we offer.
>> Training