Motivation
Keeping pace with the rapid evolution of technology and ever-increasing system complexity is major challenge for any manufacturer. Nowhere are the impacts of these forces more strongly felt than in field support organizations, where frequent system updates and short product lifecycles challenge the skills of any Field Service Engineer (FSE). Behind every fault-code or symptom lurks a myriad of possible causes; getting to the true root cause requires an in-depth understanding of the system and years of specialized training that are beyond the reach of many FSEs. Furthermore, conventional linear troubleshooting methods take too long, often overlook the root cause, and result in too many expensive swapped parts.
The casualties of outdated "trial and error" troubleshooting methods are numerous and include:
Long troubleshooting times, multiple site visits, and frequent problem escalations
High parts usage that negatively impacts inventories and shipping costs
Too frequent occurrences of "No Trouble Found", followed by recurring problems and growing customer dissatisfaction
High employee training costs and escalating staffing requirements
Longer system outages and poor problem resolution rates, especially for new products
Solution
Guided Troubleshooting is the perfect antidote to resolve the shortcomings inherent in conventional troubleshooting methods. The process of Guided Troubleshooting (or Interactive Electronic Technical Manual (IETM)) assures higher problem resolution rates by guiding the FSE through an optimized step-by-step process of identifying, fixing, and verifying problems. Originally developed by QSI for the Department of Defense and the aerospace industry, Guided Troubleshooting gives inexperienced eighteenyear-old technicians the ability to fix sophisticated aircraft like the F16 fighter jet. To address growing demand, QSI is now making this easy-to-use and affordable technology available to customers in the commercial sector.
Technology
QSI's powerful reasoning engine uses knowledge about complex equipment, captured in graphical models, to generate optimized troubleshooting instructions. The instructions guide the FSE through the most complex troubleshooting tasks and help to:
Identify the potential list of suspected causes
Use available information in the form of fault codes, symptoms, human observations, and test results to progressively reduce the list of suspected causes
Troubleshoot like an expert following an optimal sequence of steps (shortest path) to identify the root cause
The reasoner generates diagnostic instructions that may include diagrams, videos, and online manuals. It tailors the diagnostic sequence to match the skills and experience of the user and provide, and can also be used in a customer self-help portal to guide the operator through the troubleshooting process.
Throughout the troubleshooting process, the reasoner creates detailed logs for use in billing, training, and auditing. These logs are also used by the reasoner to learn from experience and further optimize the troubleshooting sequence.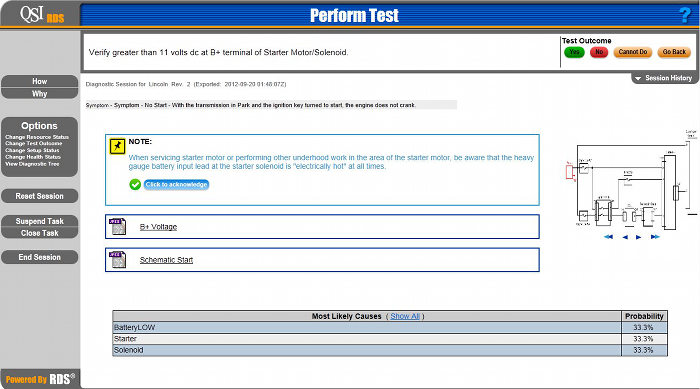 The task
Available Outcomes
The session is automatically logged and users may go back to view their past actions.
TEAMATE increases safety by displaying advisories, cautions and warnings applicable to the current task.
Applicable media Information gathered by the experts in TEAMS-Designer helps technicians with the current task.
Picture slide-show displays helpful information.
The most likely causes are displayed in order of their probability
Users may change the test outcomes, health status or resources available at any time.
Displays the current symptom being diagnosed.
User's may suspend a session and resume at a later time.
Guided Troubleshooting Application
Powered by the TEAMS-RDS server software, QSI's Guided Troubleshooting application is accessible from any browser with network access. It is also available as a mobility solution on any Android or Apple tablets or smartphones (using TEAMSPackNGo) or as a native PC/laptop application (TEAMATE).
Projected Benefits
| Business Driver | Benefit |
| --- | --- |
| Unscheduled Downtime | Down 10 to 50% |
| QoS for New Products | Up 20 to 50% |
| On-the-job training time | Down 30 to 60% |
| Repeat service calls | Down 70 to 90% |
| Spares used per service call | Down 50 to 70% |
QSI's Guided Troubleshooting software, utilized on its own,or in combination with QSI's Remote Diagnosis and Diagnose Before Dispatch solutions, delivers an impressive list of savings in both cost and time. With it, every technician performs like an expert!