QSI's advanced service intelligence and diagnostic software is the result of decades of diagnostic and repair service experience and a corporate philosophy of continuous product improvement and optimization.
Today, our Testability, Engineering, and Maintenance System (TEAMS) software suite stands alone as the most powerful and comprehensive guided troubleshooting solution in the industry, offering unparalleled troubleshooting accuracy and rapid problem resolution. As a result of our efforts, QSI has been granted patents in the key areas of remote diagnosis, fault detection, and low cost sensor measurement.
Using an adaptive diagnostic reasoner, the TEAMS system is designed to work equally well on individual devices or complex integrated systems. With the TEAMS solution, as the complexity of a system increases, customer experience has shown that diagnostic and problem analysis times improve dramatically, especially in comparison with less intelligent and non-adaptive knowledge management (KM) systems. As with experts, TEAMS is capable of diagnosing known and experienced faults as well as more difficult to diagnose unanticipated faults. The latter is accomplished through a feedback learning mechanism built into the software.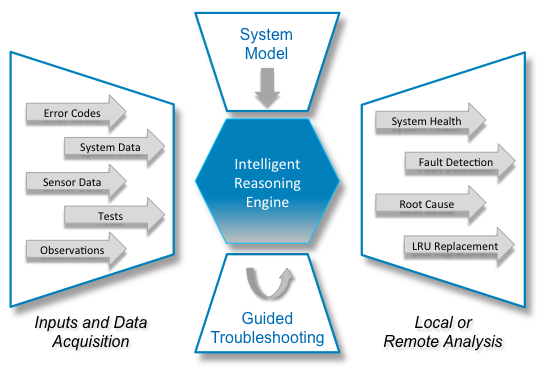 TEAMS Architecture
At the heart of the TEAMS system is an Intelligent Reasoning Engine, a real-time program that can process thousands of test results per second. Running our proprietary algorithms, the IRE correlates test results from a wide range of sources to determine the root cause of the failure. Other capabilities of the reasoning engine include:
Diagnosis of multiple failures
Built-in filtering to dynamically filter flip-flop tests
Health status results, including: Good, Bad, Unknown, Suspect, Criticality, Probability of Diagnosis
Defining the Guided Troubleshooting steps needed to move from fault to solution most efficiently
As shown in the reference diagram above, the IRE accepts a wide range of inputs, including system data, sensor data, error codes, and more. At the top of the diagram is the System Model, a set of customer-defined rules that describe the various components, modules, FRU's, interconnections of the device or system under test. These rules also define failure modes, tests, and affected functions. To use the analogy of a GPS navigational device, the System Model corresponds to the stored GPS maps and the Intelligent Reasoning Engine corresponds to the routing algorithms. Using these two elements, TEAMS determines the optimal path to the destination, in this case identifying the failed software or hardware component or module. The output of this well-defined process is Guided Troubleshooting, a highly optimized set of instructions designed to diagnose failures in the shortest number of steps and the least amount of time. The system also generates a variety of additional output information, including System Health, Root Cause Analysis, LRU Replacement, and more. With TEAMS, customers experience a dramatic reduction in repair time and parts usage.
TEAMS can be used locally or remotely and includes modules for remote monitoring and telediagnosis. Customer self-help and online help modules are also included. Customers deploying a TEAMS system for the first time can expect a 75 – 85% accuracy rate without relying on any maintenance or service history. Over time, usage information is fed back into the modeler to further improve its accuracy rate.