Your machines are complex and sophisticated, and have built-in capabilities to detect fault conditions. When it detects faults, it generates cryptic messages or Error Codes that have valuable clues as to what is wrong. However, they do not always point to a single possible fault; in fact a single fault can generate multiple error codes, and each error code can be triggered by multiple possible faults.  So, you typically disregard all the error codes except for the precious few that point to a single cause, and spend hours troubleshooting the problem at the customer site!
But there is a better way! The TEAMS reasoner can make sense of it all! The TEAMS reasoner can utilize machine data to automatically identify root cause (or, small set of suspects) and all but eliminate manual troubleshooting. With this capability, you can: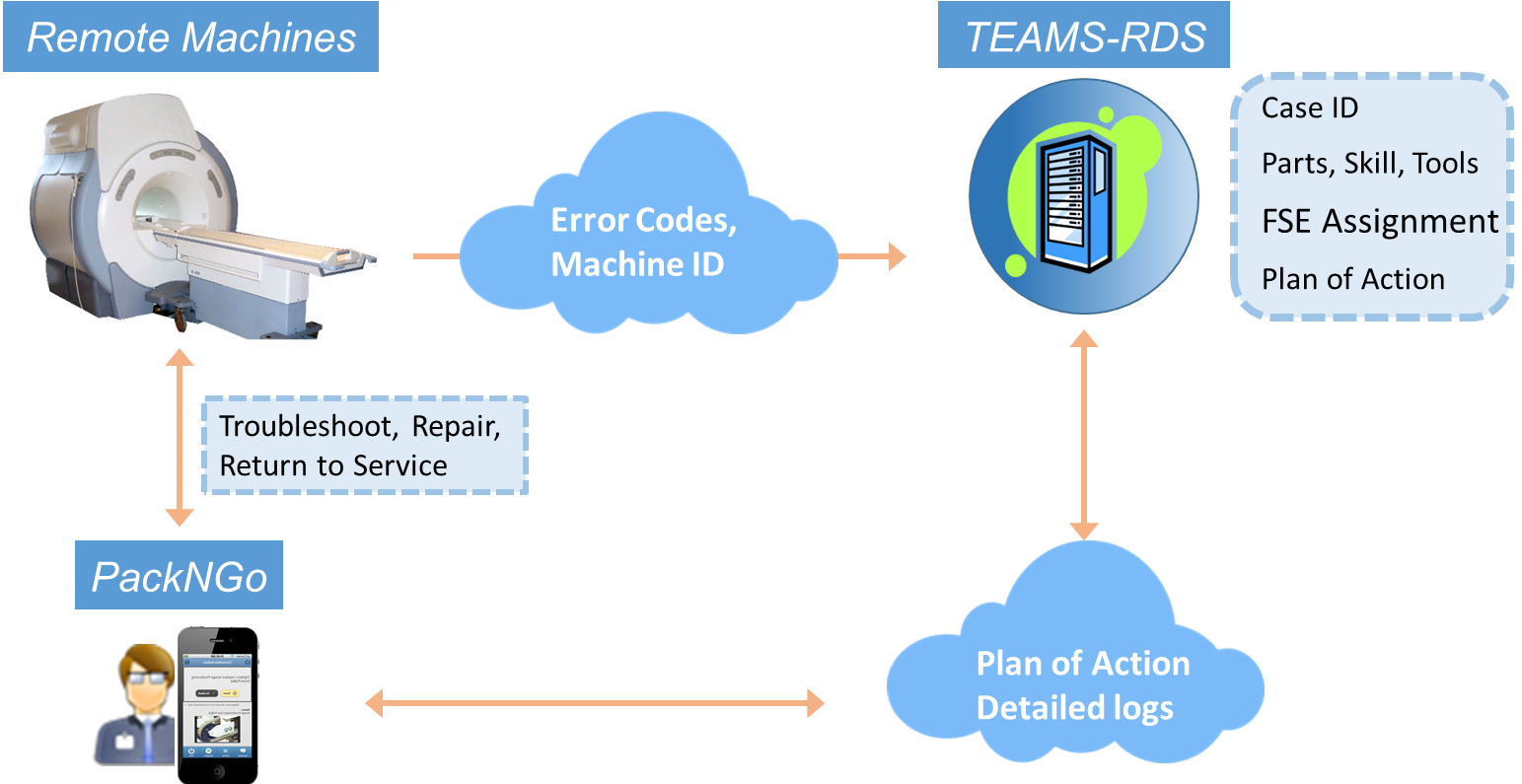 You can automate and augment your current Service Workflow using our reasoner technology. Now, you can diagnose the problem before you roll a truck, and dispatch the right parts, tools and skills to get the job done right the first time.
This demonstration illustrates the following workflow:
Machine Data: A machine operating at a customer site encounters errors, and uploads just the error codes and serial number information.
Dispatch Center: A case ID is assigned and the case is dispatched to the assigned service agent. You will be the service agent here and get the dispatch notification in your smartphone or tablet.
Reasoning: The TEAMS Reasoner will interpret the error codes received from the machine and infer the root cause (Scenarios 2, 3 and 4) or suspect lists (Scenario 1). It will then identify the parts, tools and skills that should be dispatched, and generates an optimized plan of action for you, the service agent, to follow. These items are part of the dispatch notification you will receive via email.
Guided Troubleshooting: You open the dispatch notification on an iOS or Android device (Smartphone or tablet) in QSI's PackNGo application, and experience a guided troubleshooting session.