Every hour of operation, semiconductor and microchip assembly lines produce millions of dollars worth of microprocessors, integrated circuits, and memory components.
To operate continuously and meet high yield quotas, these manufacturing facilities must approach six 9's in reliability, maintaining consistent output for weeks after week with few if any periods of downtime. In other high tech industries, test equipment, printing, and imaging manufacturers adhere to similarly stringent goals for system uptime and availability. This drive towards higher manufacturing quality and productivity has brought renewed attention to the service component of manufacturing machinery and systems. With more than two decades of experience in system health management and recognition for leadership in Service Intelligence, QSI is uniquely skilled at improving system uptime and reducing support costs for both equipment users and OEMs.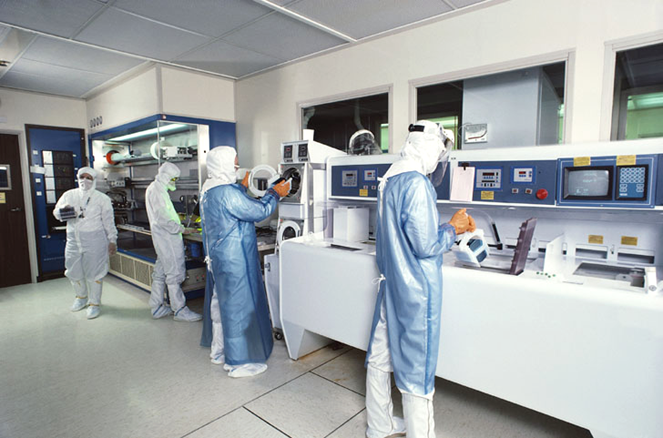 QSI's solution is based on a simple "failure space" model of the equipment. Incorporating engineering data, field maintenance information, and expert knowledge, the model provides a graphical representation of the system's failure modes as well as available diagnostic and prognostic tests. QSI's TEAMS (Testability, Engineering, and Maintenance System) qualitative approach allows engineers to build hierarchical block diagrams and capture failure modes, functional manifestations, and testing information. From these inputs, the modeling tool can compute testability and diagnostic performance characteristics. QSI uses relationships and techniques that are compatible with FMEA (Failure Mode Effects Analysis) processes, testability engineering, R&M (Reliability, Maintainability) engineering, and Safety engineering. Our unique approach stands in sharp contrast to other diagnostic strategies that require intimate knowledge of system behavior, complex algorithms and state diagrams, and complicated, numerically weighted nodal relationships.
The benefits of QSI's TEAMS approach include:
A significant reduction in mean time to repair (MTTR)
An increase first time fix rates
A reduction in spares consumed per visit
The creation (on average) of 75% of the troubleshooting knowledge upfront, even in scenarios where there is no service history
An increase the utilization of skilled Field Service Engineers (FSEs)
A substantial reduction in training costs
Continual system learning and optimization
Improved customer satisfaction
Along with prominent long-term customers like NASA and the U.S. DOD, QSI has a wealth of experience building advanced health management solutions for high technology equipment manufacturers such as KLA-Tencor, FEI Inc., Orbotech, Ltd. and others.